Careers with Us
NOW HIRING - JOIN OUR TEAM!
Teachers, Enrollment Staff, Food Services, Maintenance, Office & Other Positions
Options for Learning is:
A highly recognized nonprofit child care & family resources provider since 1981.
One of the largest child development agencies in the San Gabriel Valley employing more than 1,000 professionals & growing!
Consistently ranked high quality child development & after school services in CA.
Convenient for families - with over 160 site locations, serving 12,000+ children.
Favored by employees - a strong career path & low turnover.
Generous with benefits for both full-time & part-time staff.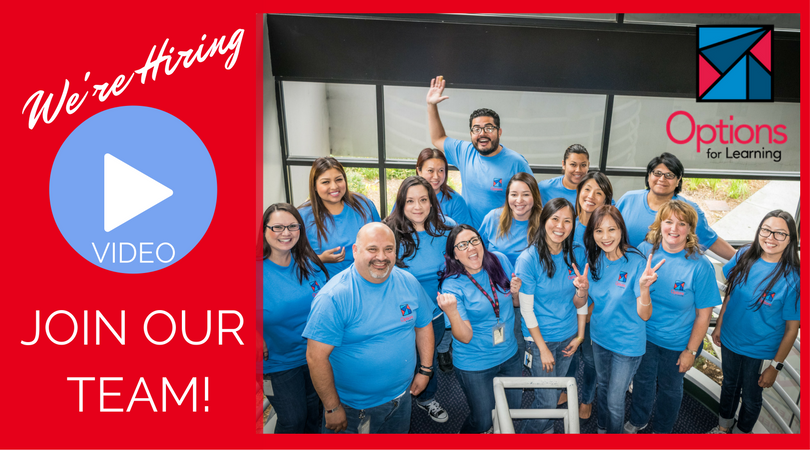 Staff Testimonials
Working for Options is a rewarding experience where you are encouraged to learn, be creative and express yourself in your work. It is an experience like no other, and the prize is inspiring our youth, and witnessing their growth. Diana – Lead Teacher, Enrichment Program
Working for Options has given me the opportunity to grow professionally as a teacher. Here at Options we work as a team to help children succeed and make a difference in their lives. As a teacher at Options I also have the opportunity to work with different communities. Alba - Teacher, Head Start Pasadena
I starting working at Options as an Assistant Teacher and now I am a Site Director at a large site making more money and close to home. Linda - Site Director, Surround Care
I love Options! I love it because I feel welcomed! My position has given me great experience and knowledge! You know that feeling people get every Sunday night when you know the weekend is over and you have to go to work tomorrow? Yeah, I don't get that feeling! Priscilla - Meal Monitor, State Preschool
Benefits - Generous PTO (9 hrs/pay period for FT staff), benefits for FT& PT, holiday pay, cash benefit option, medical, dental, vision, AFLAC, life insurance, flex credits, 403(b) retirement plan, Employee Assistance Program, legal assistance & dependent care.
Additional Benefits - Credit union, fitness reimbursement, bereavement time off, jury duty, employee referral bonus, gym membership discounts, movie ticket discounts, Verizon discount, L.A. County Fair discounts & employee amusement park discounts.
We're an Equal Opportunity Employer - committed to providing equal employment opportunity for all applicants and employees consistent with applicable federal, California and local law. Applicants will be considered for employment without attention to race, color, ancestry, sex, sexual orientation, gender, national origin, religion, marital status, disability, genetic characteristics, genetic information, cancer, age, citizenship status, veteran status or any other characteristic protected by this policy.